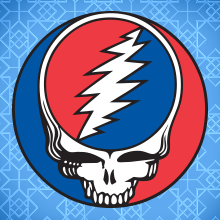 Steal Your Face
The Skull and Lightning bolt emblem, originally created for practical use, grew into one of the Grateful Dead's most recognizable symbols. Frequently this icon is featured on Grateful Dead t-shirts, hoodies, and other merch. The concept started with Owsley "Bear" Stanley when he was inspired by a freeway sign that stood out to him. He wanted to brand the group's musical equipment so it could be easily identified during concerts with multiple bands. He shared the idea with artist Bob Thomas, and the first design was drafted in 1969. After some evolution, it contains a white skull (known as Stealie) and a 13-point lightning bolt along with an alternating red and blue color scheme. Even though the symbol was used previously, it became known as the "Steal Your Face Skull" after it was featured on the cover of the album Steal Your Face
---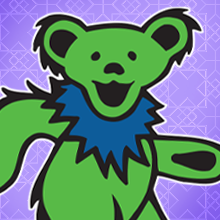 Dancing Bears
The Dancing Bears made their artistic debut in 1973 as part of the album art for History of the Grateful Dead, Volume One – Bear's Choice. Drawn by Bob Thomas, the bears are a reference to Owsley "Bear" Stanley, the soundman for Grateful Dead and producer of the album. The bears are often referred to as the "Dancing" Bears, but they are actually marching. Bear himself has said: "The bears on the album cover are not really 'dancing'. I don't know why people think they are; their positions are quite obviously those of a high-stepping march." Whether they are dancing or marching, Deadheads fell in love with the colorful bears. They seem to represent what the culture is all about: Music, dancing, laughing, and marching arm in arm together showing solidarity as well as individuality. Often you can find these unique mascots on our hats, socks, lounge pants and tees.
---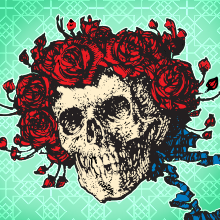 Bertha
Skull and Roses have been featured in Grateful Dead artwork throughout their career. Inspired by a drawing by Edmund Joseph Sullivan from the 1913 edition of the Rubaiyat of Omar Khayyam, Alton Kelley and Stanley Mouse rendered the original draft, a skeleton with a crown of roses holding rose wreaths. The design first appeared on a poster in San Francisco for Dead shows at the Avalon Ballroom in 1966. It became famous when it was used as the cover for the untitled live album Grateful Dead (1971). The album was published without a title after a dispute with the record company over the name, but became widely known as "Skull and Roses" because of the iconic cover art. The rose-wigged skeleton is often referred to as "Bertha," the first track on the album. Bertha is featured on a ton of our officially licensed t-shirts and merchandise.
---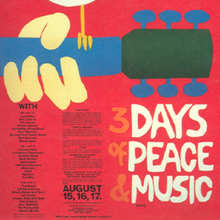 Tours
A world record, Grateful Dead played over 2,300 concerts and more free concerts than any other band in history. Initially, their live shows were primary in the San Francisco Bay Area, but they inevitably reached the rest of America as well as Canada, Europe, and even the Great Pyramid of Giza in Egypt. They promoted a sense of community among their fans, and many would follow the band from venue to venue, spawning the birth of Deadheads. They were one of the first bands to allow fans to record their shows and trade them freely amongst each other. Impromptu communal marketplaces, known as Shakedown Street, were created by Deadheads at concert venues, allowing fans to buy and sell anything from food to homemade T-shirts while following the band.
---